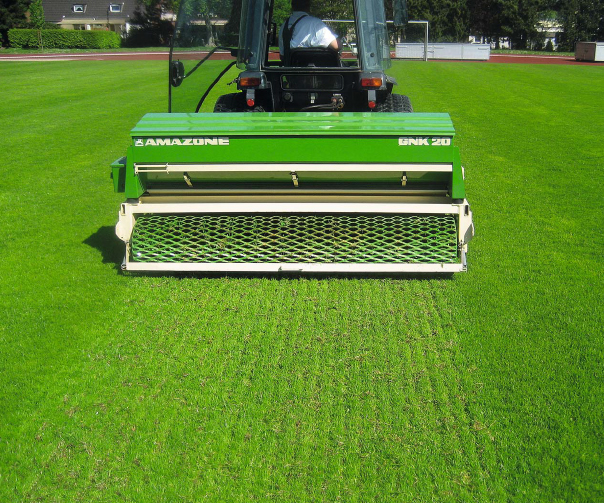 LANDSCAPING
Cultivation seed combination
AMAZONE Landscaping combinations have their fields of application in gardening and landscaping in the creation and regeneration of green areas.
For every need, the ideal device can be put together. The particularly robust design of the devices ensures long-term, reliable use. With the Grasbreitsaat combinations the most important conditions for a favorable plant development are created in a single operation, namely a well-prepared seedbed, a uniform placement depth of the seed at the desired depth and a well-pressed soil surface. With various tillage implements and rollers, grass seed sowing combinations in working widths of 1.10 to 2.50 meters are available. The hard court shaker with working widths of 1.50 and 2 meters takes care of the regeneration and maintenance of water-bound turf pitches and mechanical weed control.
HANG TRACTOR
The all-rounder - sovereign and safe in all situations
Even very steep slopes do not upset the SAUERBURGER GRIP 4. Its hydraulic four-wheel steering with four steering variants enables very good maneuverability. He draws his power from a 95 hp / 113 hp 4-cylinder turbo engine. Due to the optimal weight distribution, the machine is very capable of climbing and off-road.
Powerful engine - economical in consumption The 4-cylinder Perkins engine in a very compact design has a speed-independent controlled common-rail high-pressure injection system and a fully electronic engine control. As a result, the SAUERBURGER GRIP4 always runs at economic optimum and is extremely fuel-efficient.
FLAIL TOPPER WITH COLLECTORS
Specially designed by SAUERBURGER for paddocks, sports fields and wherever the grass has cuttings to be collected. These areas can be kept free of old grass, horse manure, thorns, weeds and any other unwanted vegetation, providing a clean and well maintained landscape. Due to the size and performance of the tractor, SAUERBURGER offers two types of machines. MOSKITO for light tractors with a power range from 30 hp and the heavy WM, which is suitable for tractors with power from 50 hp.
< zurück