swissTAC - Pure water purification system
Cleaning without any chemicals
With the specially developed, unique pure water cleaning system from swissTAC, windows and surfaces can be cleaned easily, efficiently and professionally - and all without chemical cleaning additives.
Pure water is pure water - free from all minerals. This leaves no residue on the surfaces to be cleaned, while the pure water binds dirt and dust.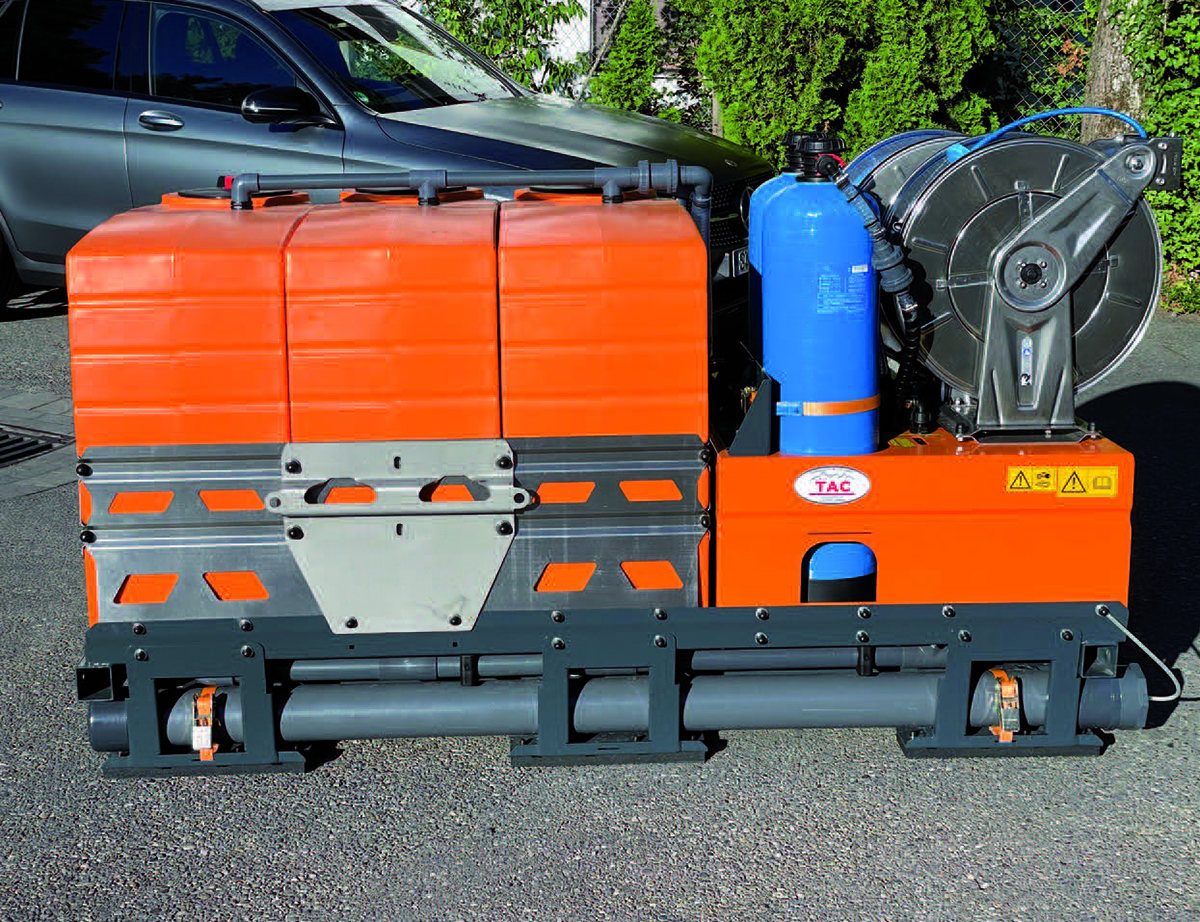 application areas
window cleaning
Cleaning of PV and solar systems
facade cleaning
advantages
Efficient because only one operation (no need to peel off)
Safe - no working on ladders, etc.
Environmentally friendly (no additional cleaning agent, no loss of rinsing water)
self-sufficient use
Technische Daten
| | RW 325 | RW 650 | RW 975 |
| --- | --- | --- | --- |
| tank capacity | 325 l | 650 l | 975 l |
| Dimensions (lxwxh) | 1380x1300x1100 | 1760x1300x1100 | 2170x1300x1100 |
| Height with stacking pockets | 1300 | 1300 | 1300 |
More features
Height with stacking pocketsWater tank system in cascade design (baffles are generally included)
Tanks made of robust PE in RAL 2011 (UV and impact resistant)
Barrel frame with crane straps and lashing points for attachment to VDI 2700 on all loading areas
flat design with optimal utilization of the flatbed width
standard filling via C-connection
standard water suction filter
2 complete desalination cartridges, each with 30 l of mixed resin
2 conductivity meters (with battery) for each cartridge
Battery 12 V with 280 Ah including charger 25 Ah
12V electric water pump for simultaneous operation of 2 reels
1x automatic hose reel made of stainless steel with 50 m fabric hose for pure water
1x manual hose reel made of stainless steel with 100 m fabric hose for pure water
Pure water collector piece with hose connection 8l/min (e.g. for connection of high-pressure cleaner)
Pick-up system for forklifts
!! Please let us know the fork size of the forklift !!
Lance Rack
D=100 mm
for picking up lances requires forklift straps
TAC 3700-39
Recording of telescopic cleaning lances[&nbsp]
only for TAC 975-30 or larger